You are invited to the 9th NZCGS Annual Lecture "Security and Disarmament Challenges: Prospects for the Global Order".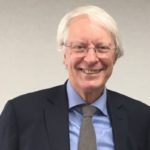 Keynote Speaker Professor Kevin Clements is a Foundation Board Member of the NZ Centre for Global Studies. He is also Director of the Toda Peace Insitute (Tokyo) and former Foundation Chair of Peace and Conflict Studies of the NZ Centre for Peace and Conflict Studies.
Professor Clements has been a regular consultant to a variety of nongovernmental and intergovernmental organisations on disarmament, arms control, conflict resolution, development and regional security issues. He has written or edited 9 books and over 160 chapters /articles on conflict transformation, peacebuilding, preventive diplomacy and development with a specific focus on the Asia Pacific region. His career has been a combination of academic analysis and practice in the areas of peacebuilding and conflict transformation.
The 9th NZCGS annual lecture will take place on Friday, 2 December, 12.30pm – 2pm, at Auckland University Pat Hanan Room, Building 207, Room 501. (Corner Symonds St / Grafton Rd.)
Please note that space is limited, and RSVP is required. To confirm participation, please RSVP to: Joanna Tao, secretary@nzcgs.org.nz by 30 November.
If you are unable to attend physically, please express a preference for a Zoom participation and a link will be sent to you before the date.
More information and the agenda are available here on the NZCGS 9th Annual Lecture Flyer.