This section lists some of the publications which Board members and International Advisory Panel members have completed in recent years that are relevant to the focus of, and reflect the methodology used by, the Centre in the study of global affairs.
Policy Quarterly Volume 13 Number 1 Special Issue: Global Studies
Published in February 2017. Edited by Jonathan Boston
The Planetary Interest (1999)
Edited by Kennedy Graham, this book develops a new concept, the 'planetary interest'. The book defines the term, and develops the secondary concepts of the 'vital planetary interest' and the 'normative planetary interest'. Some 21 authors, academics and political leaders, contribute chapters on their own country's national interest and its relationship to the planetary interest. In his foreword to the book, the UN Secretary-General, Kofi Annan, said that "the 'planetary interest' is the kind of forward-looking concept we need as the world goes through a period of profound transformation".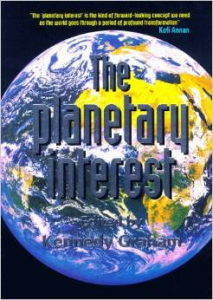 Amazon link to the book is here
The UK Climate Change Act: An Act to follow?
Prue Taylor (NZCGS Board Member) and Kate Scanlen
The New Zealand government recently announced an intention to make the country carbon neutral by 2050. Interest has been expressed in using the United Kingdom's Climate Change Act 2008 as a model to achieve this goal. However, more needs to be done to critically review the UK legislation's applicability to the New Zealand context. This article identifies some of the issues emerging from a ten-year review of the UK act. It is hoped that close consideration of these issues will inform New Zealand policy and legislative development.
The UK Climate Change Act: An Act to follow?
Confronting the insupportable: Resources of the law of responsibility
The question of responsibility arises with many of the global commons issues that the Centre addresses in its research and outreach. This translation of Professor Alain Supiot's study of the interactions between responsibility and the law was undertaken by NZCGS Board Member Adrian Macey. It appears as the introduction to Martin, Betsan; Te Aho, Linda; Humphries-Kil, Maria (2019) ResponsAbility. Law and Governance for Living Well with the Earth. Routledge Taylor and Francis Group London and New York.
Confronting the insupportable: Resources of the law of responsibility
Survival Research and the Planetary Interest
An article by Kennedy Graham, paying tribute to the pioneering research on 'survival research' done by the late John Herz, and exploring its relationship to the 'planetary interest' concept.
Survival Research and the Planetary Interest
Regional Security and Global Governance (2006)
Authored by Kennedy Graham and Tania Felício, this book explores how peace and security might best be obtained in the 21st century. Its central message is the importance of realising UN Secretary-General Kofi Annan's vision of a 'regional-global security mechanism' within the next decade.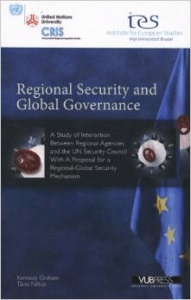 Amazon link to the book is here
Global Politics and Small States
Graham Hassall: 'Including the Excluded in Global Politics: The Pacific Island Micro-states and Global Politics' (in Jan Aart Scholte (ed), Towards More Inclusive Global Politics) forthcoming)
Hassall – Pacific Microstates in Global Politics
Global Governance: The Cultural Dimension (2004)
This is an address given by Kennedy Graham as the 17th Aurelio Peccei Lecture to the Club of Rome in 2004, on the occasion of the inauguration of Crown Prince Philip of Belgium as President of the Club of Rome.
The address is here: 2004 KG Club of Rome Address
Global Citizenship
Kennedy Graham, 'Global Citizenship' (2015)
This link is to the chapter, 'Global Citizenship', written by Dr Kennedy Graham as a contribution to a forthcoming book compiled in tribute to Professor Roger Clark, member of the Centre's International Advisory Panel. Global Citizenship
The Global Interest & New Zealand Policy
Rod Oram: 'Make Our Presence Felt' (Article in Sunday Star Times, 8 February 2015)
150208 Rod Oram SST 'Make Our Presence Felt'
Global Sustainability & Nation-states
Klaus Bosselmann: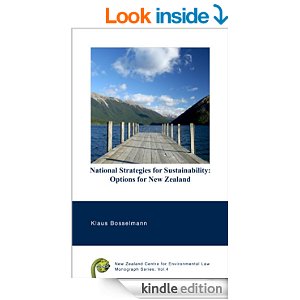 Amazon link to the book is http://www.amazon.com/dp/B00T256JN6
Klaus Bosselmann
'Earth Governance: Trusteeship for the Global Commons' (Elgar/UK, May 2015) – forthcoming
Global Refugee Policy and Member States
UNANZ Policy Paper No. 01 (2012): 'New Zealand's Approach to Refugees: Legal Obligations and Current Practices', Marie-Charlotte de Lapaillone
2012 UNANZ Policy Paper 01 2012 – Refugees
United Nations and Global Governance
Kennedy Graham, 'The Security Council and Counterterrorism: Global and Regional Approaches to an Elusive Public Good'
Security Council and Counter-terrorism, K Graham
Global Governance and Climate Change
Adrian Macey, 'The Road to Durban and Beyond: The Progress of International Climate Change Negotiations' (Policy Quarterly: Volume 8, Issue 2 – May 2012)
A Macey – PQ article Climate Change
Sea of Faith Conference 2015
Kennedy Graham, 'Confronting our souls to save our hides: a global perspective on an uncertain future'
151002 Sea of Faith Conf. KG paper